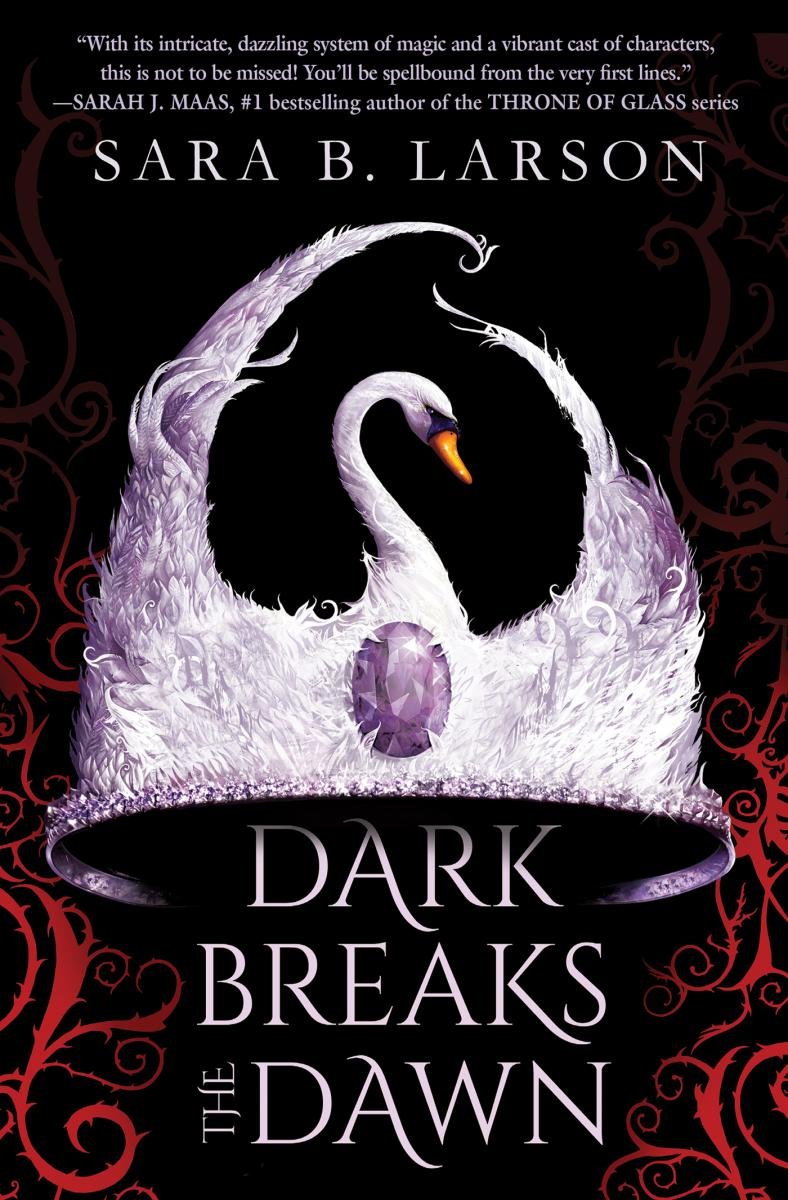 "With its intricate, dazzling system of magic and a vibrant cast of characters, this passionate, war-torn retelling of Swan Lake is not one to be missed! You'll be spellbound from the very first lines." —Sarah J. Maas, #1 NEW YORK TIMES bestselling author of the THRONE OF GLASS series
"A breathtaking origin story of Swan Lake that unfurls with soaring beauty and a villain prince as captivating as the fearless princess." — Kathryn Purdie, author of the Burning Glass series
This new YA duology starting in May of 2017 is a fantasy re-imagining of Swan Lake. I can't wait to share more about Evelayn and her story with you soon!
Add to your TO-READ shelves on Goodreads CLICK HERE!
Order a *signed/personalized* copy of DARK BREAKS THE DAWN by CLICKING HERE! (The King's English)
Order DARK BREAKS THE DAWN by CLICKING HERE! (Amazon)
Order DARK BREAKS THE DAWN by CLICKING HERE! (Barnes and Noble)
Full Synopsis:
On her eighteenth birthday, Princess Evelayn of Eadrolan, the Light Kingdom, can finally access the full range of her magical powers. The light looks brighter, the air is sharper, and the energy she can draw when fighting feels almost limitless.
But while her mother, the queen, remains busy at the war front, in the Dark Kingdom of Dorjhalon, the corrupt king is plotting. King Bain wants control of both kingdoms, and his plan will fling Evelayn into the throne much sooner than she expected.
In order to defeat Bain and his sons, Evelayn will quickly have to come into her ability to shapeshift, and rely on the alluring Lord Tanvir. But not everyone is what they seem, and the balance between the Light and Dark comes at a steep price.
In the first book of a remarkable duology, Sara B. Larson sets the stage for her reimagining of Swan Lake — a lush romance packed with betrayal, intrigue, magic, and adventure.

Purchase the entire DEFY trilogy today:
Signed/Personalized Copy from The King's English CLICK HERE
Praise for the DEFY trilogy:
*A Kids' Indie Next List pick for Winter 2013-2014
*Booklist says DEFY has "…Grand adventure, romance and thrilling political intrigue"
*PW calls DEFY a "riveting fantasy" with "emotional sincerity and psychological depth" and a "cinematic finale"!
"Larson's debut is full of passion and adventure, urging readers to cheer and weep simultaneously at Alexa's astounding courage. Those interested in strong female characters, such as Katniss from Suzanne Collins's The Hunger Games, will find new affinity in Defy." – School Library Journal
"A wonderful tale of adventure, romance, and embracing your true self. Alexa is a heroine readers will love to follow!" – Marie Lu, bestselling author of the LEGEND series
"DEFY by Sara Larson is an amazing, fantastic book. It has everything you'd want: intrigue, awesomely real characters, suspense, and a captivating plot. All in a world that comes to life in your mind. Highly recommended." – James Dashner, bestselling author of THE MAZE RUNNER
"Set in a medieval world full of danger, magic and romance, Larson's exciting tale will appeal to fans of high fantasy. The plot is fast-paced and the story full of unexpected twists and turns. [DEFY] …will leave readers craving for more." – Children's Literature.
"Alexa was fierce in Defy (2013), and in this second installment, she remains an interesting, multilayered character, a valiant fighter with heart. Series fans will be satisfied." – Booklist praise for IGNITE
"…a[n]…engaging read and one that fans of the series will definitely be seeking." – VOYA praise for IGNITE
"[A] fast-paced novel laced with political intrigue." – School Library Journal praise for IGNITE
"The ending is triumphant, heart-wrenching, and deeply satisfying, leaving readers pleased … but also keenly aware of the cost of war and grateful to those whose sacrifices have made their happiness possible. Fans of the series will not be disappointed and might take to heart the book's counsel to live each day to the fullest." – International Literacy Association praise for ENDURE
"Larson creates a dynamic female protagonist in Alexa. She is independent and strong, a protector and rescuer. Fans will be very satisfied with this final journey." —School Library Journal for ENDURE